Professional Applications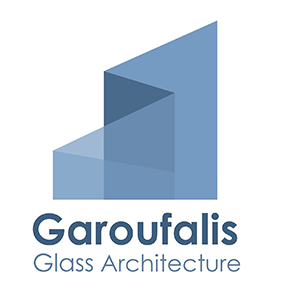 "GAROUFALIS GLASS" offers products and services for professionals at the best prices in the market, including transportation and installation, with our crane vehicles and trained personnel.
We specialize and fully undertake installation glass shop showcases with security glasses, energy saving glasses, sun protection for shops e.g.: clothes, musical instruments, special noise reduction showcases, even bullet proof showcases! We also undertake installation of glass curtains, sliding-opening glass doors (harmonica type), automatic motion activated glass doors, shelters, patios, glass floors, as well as every other glass application you require, in order to improve the functionality and aesthetic appeal of your shop.
We offer written guarantee of the quality of your construction, with the necessary certification documents, as well as a guarantee of the installation timeframe decided upon.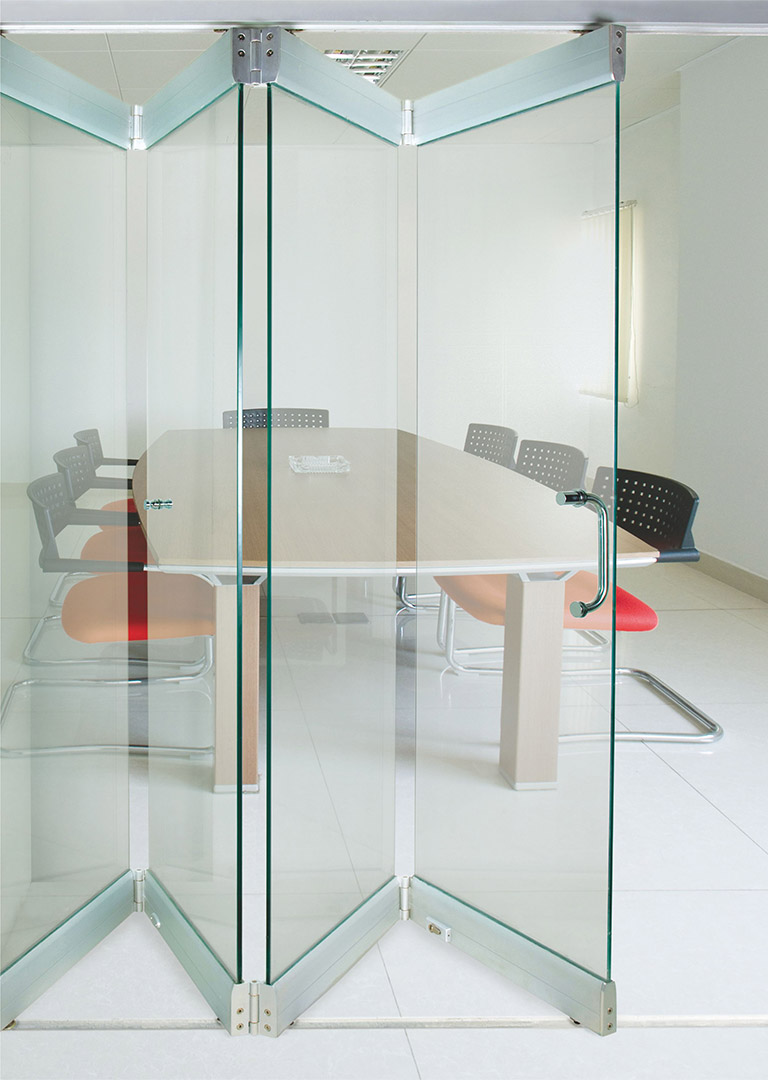 Glass folding
For a flexible shop.
With the latest technology glass sliding doors you can.expand your shop space, creating a wider, brighter and more efficient environment for your customers, especially during the summer.
The mechanisms used are EU manufactured latest technology products -CE certified-, providing smooth and noiseless sliding
Combine different types of folding glass doors mechanisms with your choice of glass from our wide variety, in order to achieve the desired result. For the utmost safety we recommend securit (tampered) type glass or/and laminated (triplex). You may also combine safety with decorative effects, choosing colored triplex glasses.
Choose the system that suits your needs.
There are many different types of folding glass doors mechanisms to cover your needs. Together, we will find the best solution for your space!
Folding doors with an aluminium frame (with Parking)
Folding doors (accordion type)
Double glazing folding doors ( Functionality + Energy Efficient technology)
Maximum insulation and sound proofing folding doors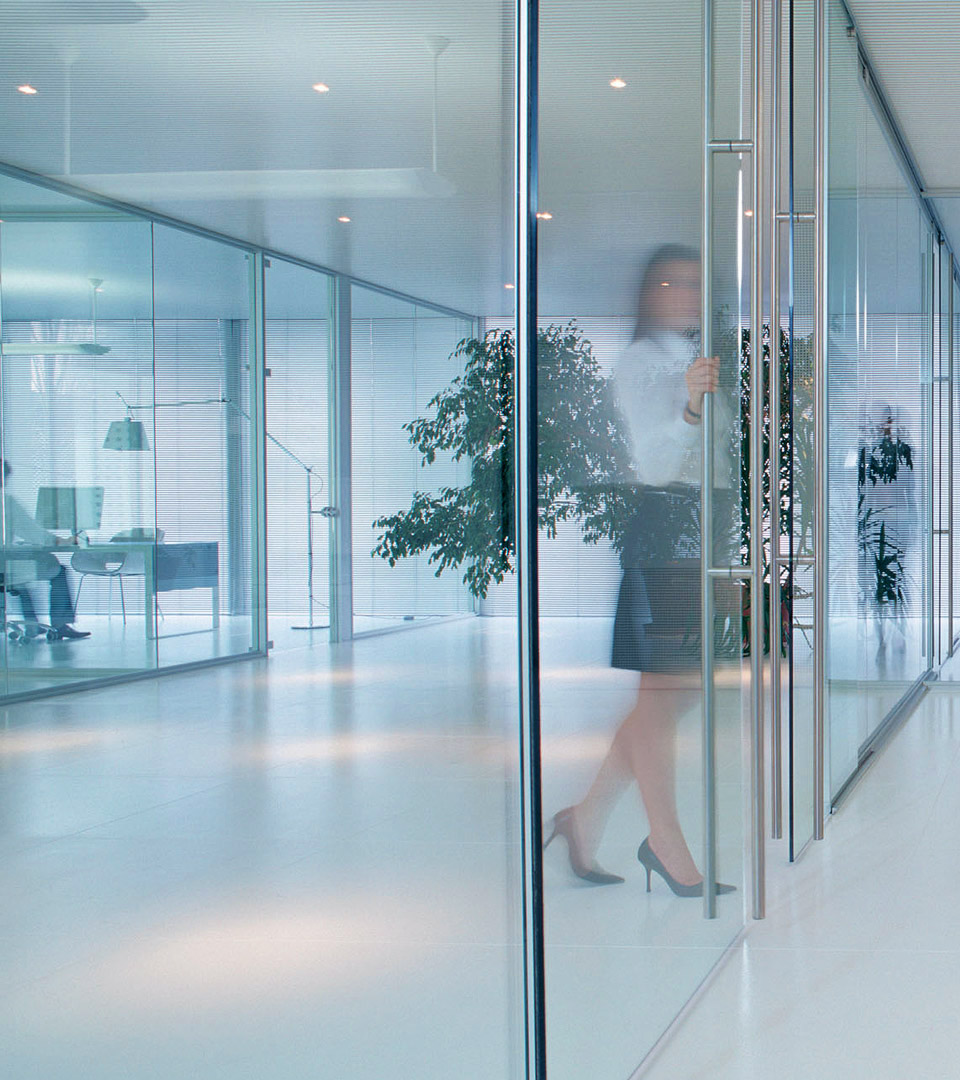 Office breaks – Double glazing with blinds
Create a functional and appealing working space, installing glass office breaks
With Laminated security glasses, utmost security is achieved for your personnel and customers, since in a potential violent crash, laminated glasses will stay in place despite any cracking.
Glass break with blinds
Working in your office, having visual contact with the whole of your company working space, but need to be completely in private when with a business meeting with a client?
With just one move your office turns from completely visible to a space suitable for a meeting with an important client.
Top of the range Garoufalis Glass Co double glazing, now come with inner blinds.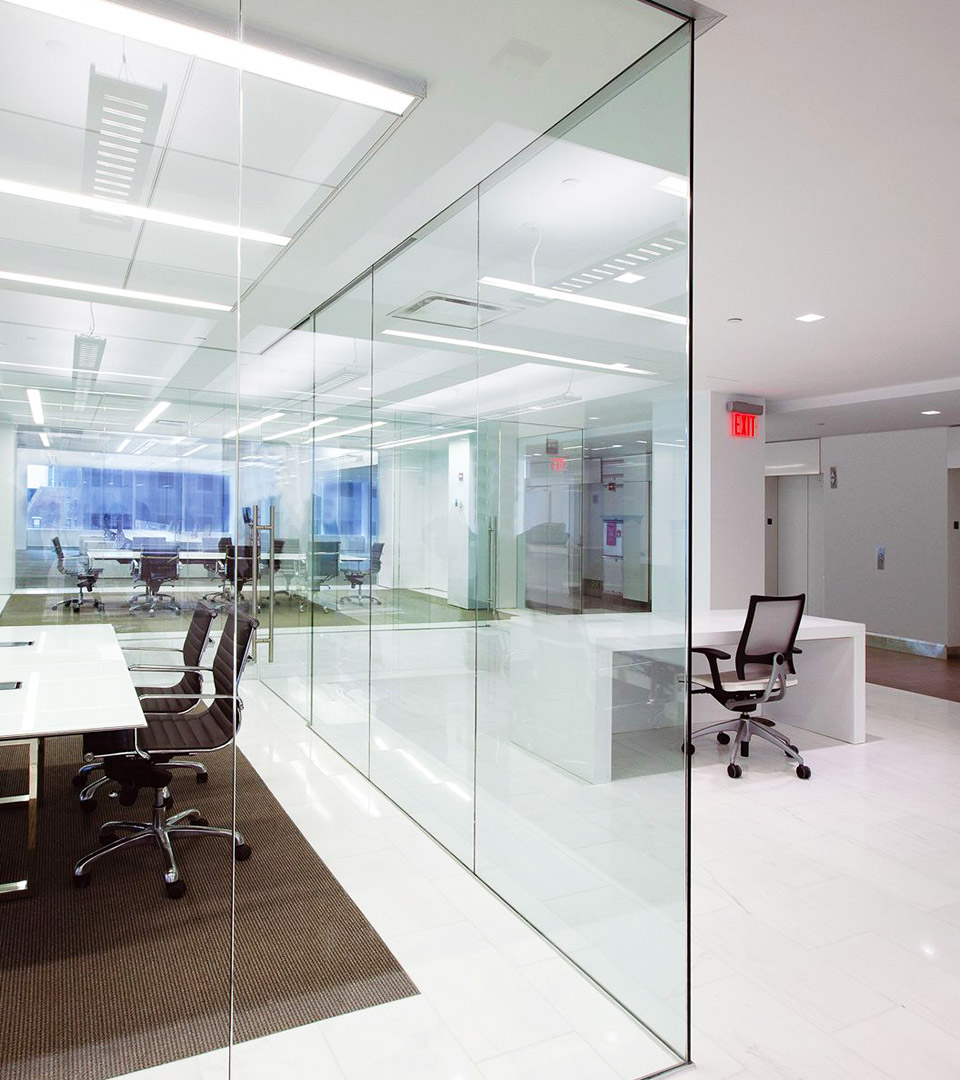 Choose the blinds that suit you:
With a button
Electric
Magnetic with rope
Remote Controlled
Ideal solution for:
Business Offices
Banks
Hotels
Hotel Offices
Restaurant/Cafe Kitchen Brake
Bathroom Windows
Shop showcases
We specialize and undertake full installation of shop showcases with:
Security glasses
Energy saving glasses
UV PROTECTOR™ sun protection glasses (for shop e.g.: clothing, musical instruments, the merchandise is not altered by sun radiation)
Noise reduction
Bullet proof
Anti reflecting (avoid mirror effect – better showcasing of the products during the day)
At the best prices in the market, including transportation and installation, with our crane vehicles and trained personnel.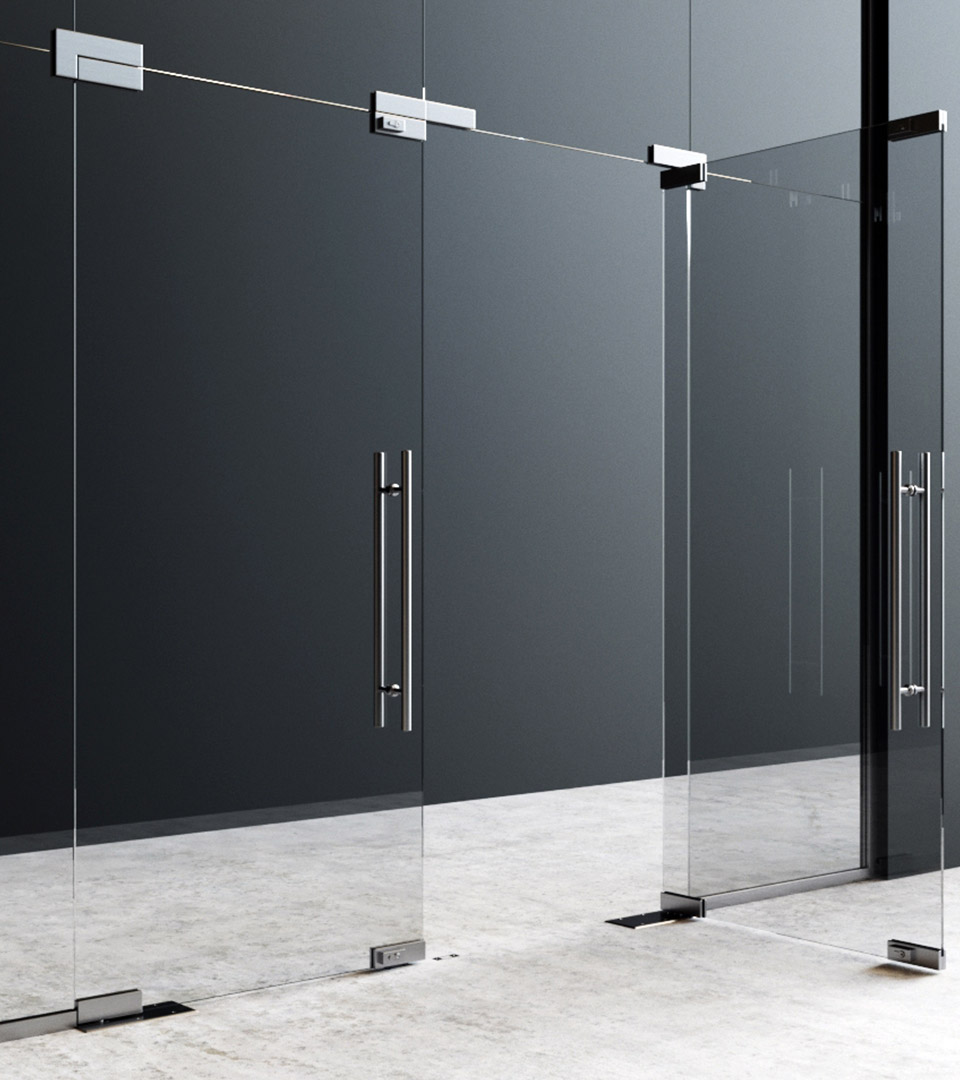 Glass shop doors
You can find in store classic shop glass doors with security glass, offering a wide variety of lock types
Innovation: Floor mechanism "without digging in"
With the new mechanism without being dug into the ground we avoid digging during the installation of the classic glass door floor mechanism.
The "no digging" mechanism is not placed on the floor any more, but on the glass door, as seen in the picture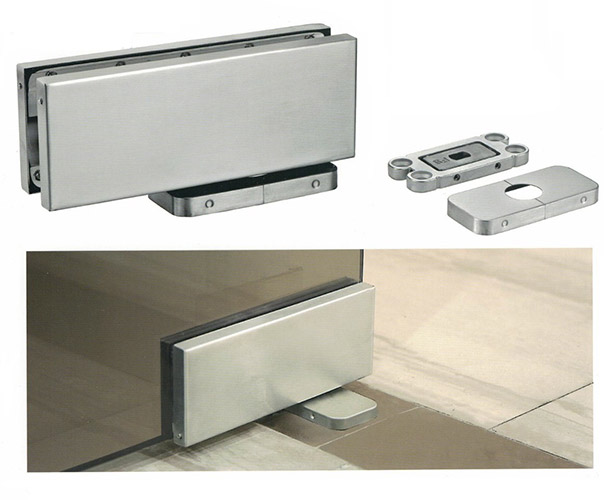 Advantages:
Avoiding big cuts on the floor
"Minimal" aesthetic appeal
Quick installation/replacement
Mirrors
You can find not only the classic mirror, but also antique, tinted, bronzed, extra clear as well as two way mirror (interrogation type). Our company guarantees the quality of our mirrors, as they are imported for us from top the range mirror (Pilkington™, AGC™, Sisecam™).
Purchase to the desired dimensions.
You may get the mirror you want to the shape you choose, using the top class CNC equipment we use.
Possibility to add a hidden led lighting frame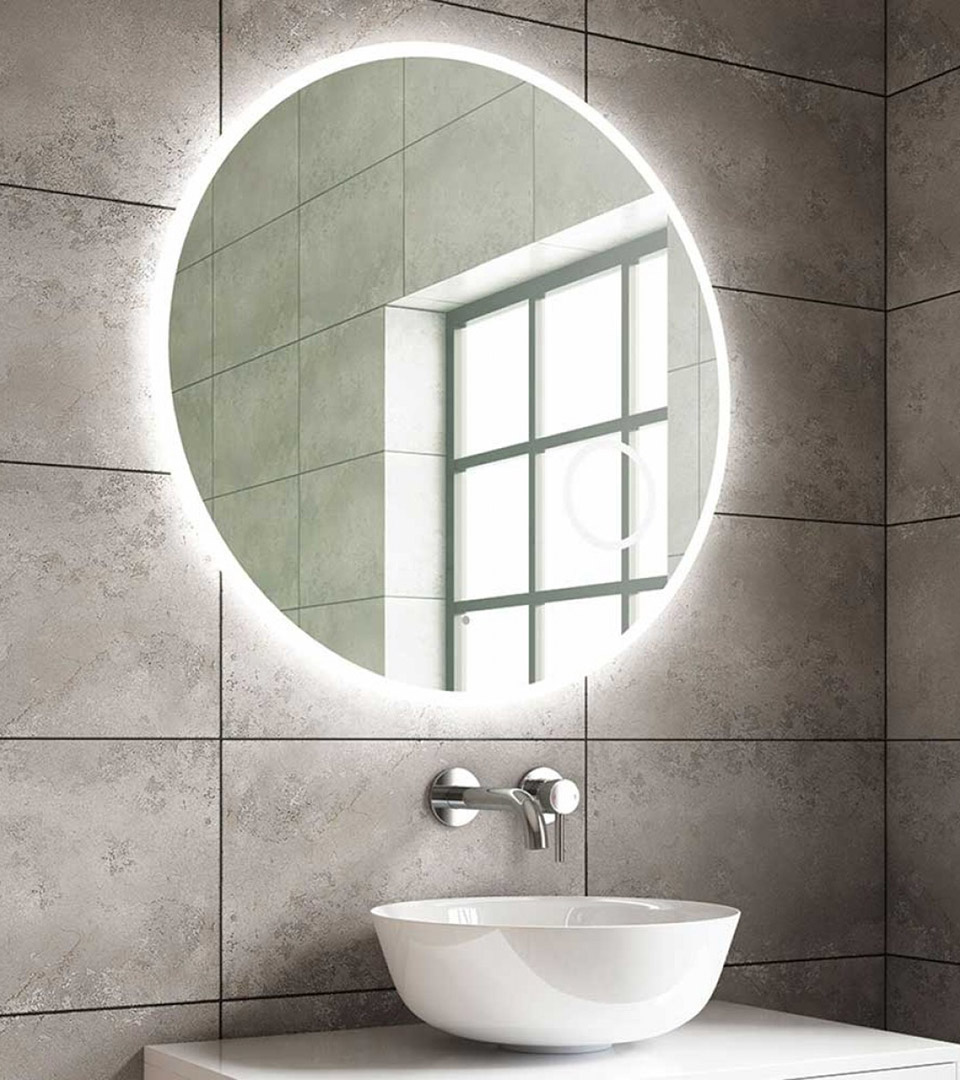 Popular Applications:
Clothes/Shoes shops
Professional refectory premises decoration
Hotel decoration
Hotel rooms
Hotel bathrooms
Refectory premises restrooms
Amusement premises decoration
Gyms
Physiotherapy Practice
Dimensions:
Standard mirror: maximum 225x321 (cm)
Standard mirror thickness: 3mm, 4mm, 5mm
Antique mirror: maximum 225x321 (cm)
Antique mirror thickness: 4mm
Tinted & bronzed mirror: maximum 225x321 (cm)
tinted and bronzed mirror thickness: 5mm
"Garoufalis Glass", a pioneer in glass curtains in Western Greece, with over of 40 years of experience on these constructions!
It should be noted that the largest glass curtain construction in the Peloponnese was manufactured by our company.
One could say, in simple words, that it is a type of masonry, with some very interesting characteristics:
Speed, quality and construction precision, as they are very easy to install
Creating perfectly flat and continuous surfaces (without cracks), which cannot be achieved under no circumstances on a concrete wall
Very good insulating, sound proofing and mechanical properties, in relation to minimal thickness achieved.
Very good "communication" with the exterior environment and development of a friendly atmosphere, thanks to the transparency achieved using low emission glass curtains (low-e).
Huge architectural design potential created for aesthetic interventions and experimentations.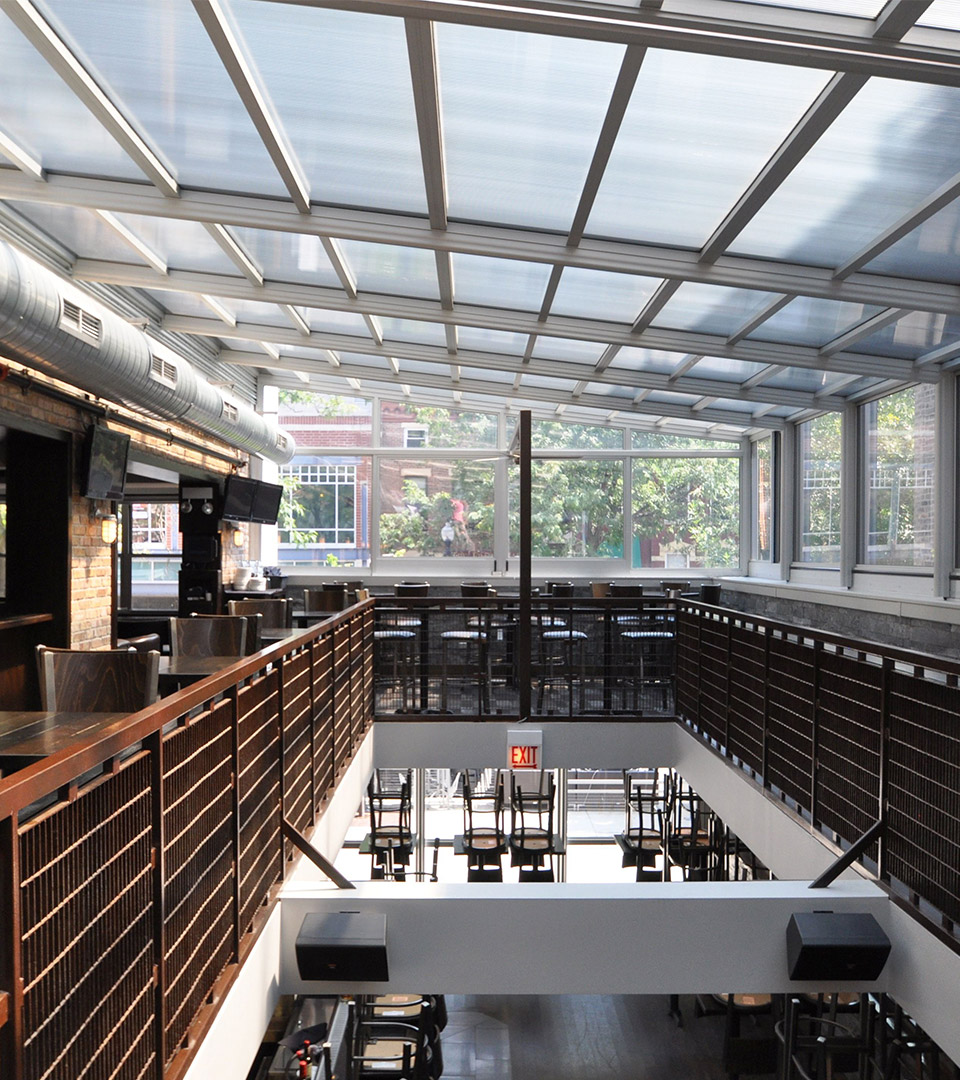 Patios
Attribute a more "relaxed atmosphere" to your professional space, that gives a feeling of natural environment, with natural sun light, placing a Glass Patio with security glazing.
Ideal for refectories and multiplex premises.
Potential combination of a Security Glass with UV PROTECTOR™ Sun protection, as well as with Garoufalis Glass™ Energy Efficient.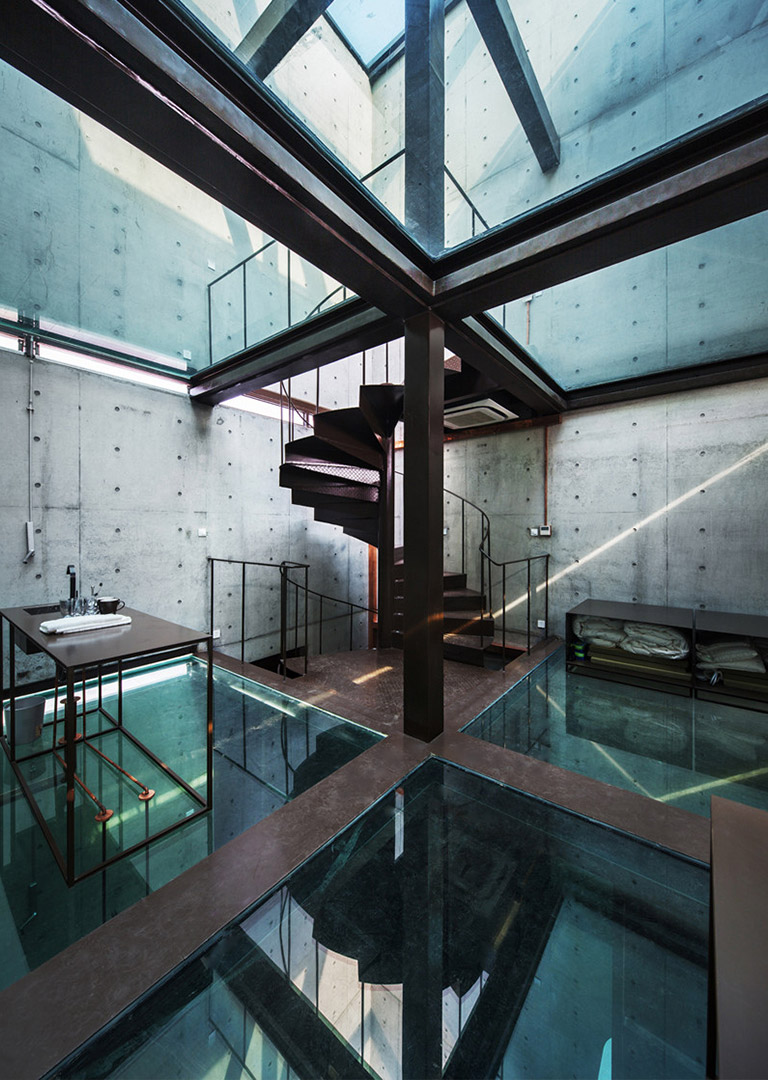 Glass Floors
Combine modern Garoufalis Glass Architecture decoration that comes with a multilayer glass floor, with the ultimate security achieved using the appropriate security glasses.
MINIMAL aesthetic appeal and security
In more detail, in these specific constructions triplex (laminated) or triplex & securit (tempered) glass panels are used EXCLUSIVELY, for safety reasons.
In the extreme occasion of glass bars breaking, the crystal stays in place, preventing any danger of injury or fall.
You have the choice of how to support your construction and whether you want a hand rail on the upper side of the crystal.
Floor Support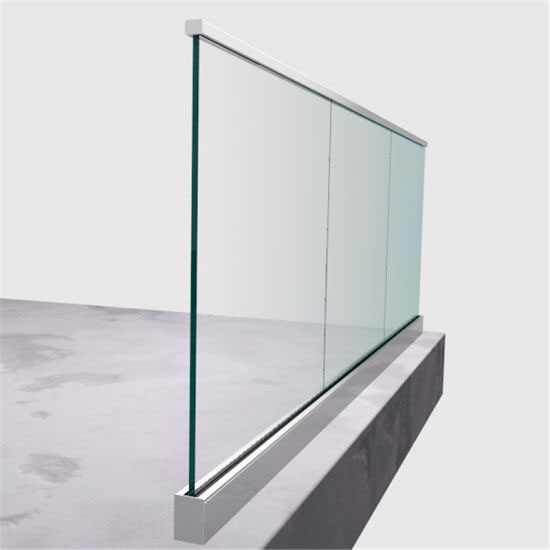 Crystal fixation system without vertical columns with a robust aluminum profile for the manufacture of glass cagel on the final floor or on a chest.
Supports vertical glass panes of Laminated (triplex) or Laminated (triplex) & Securit 16mm with transparent, colored or DG-41 film without holes and indentations.
Replacing the crystals - in the event of a break from a violent strike - is easy without creating damage to the floor or to the system itself.
The total height of the crystal may be up to 120 cm.
It may be a glass with a seamless perimeter finish or an aluminum clamp.
Embedded Support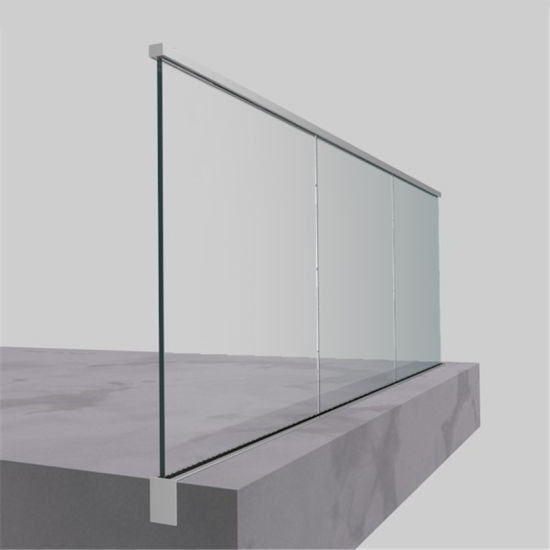 Crystal embedding chamber into concrete made of robust EN AW 6060-T66 alloy 113X48mm aluminium profile, that can be anodized.
22mm safety crystal can be mounted in the clean space of 110 Χ 28mm created by the chamber.
The aluminium profile is embedded into the concrete with the special hooks that it is equipped with, which can serve as receptors for the alignment and connection equipment..
Equipped with a removable tin can type lid (opens without use of special tools) so that the chamber remains untouched during cement filling, making it easier to align and level, while the crystals are secured onto the chamber with elastic gaskets and elastic resin, allowing stability, easy replacement in case of brakeage and perfect conduct in alternating temperatures.
The crystal total height may reach up to 120cm.
It may be a glass with a seamless perimeter finish or an aluminum clamp.
Spacers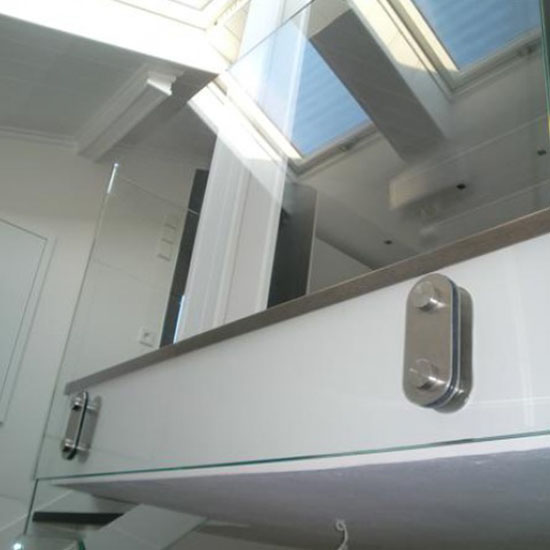 Exterior support of your construction using one of our spacers
For more information on our exterior spacers, designs and cost, we will be happy to assist you by phone or in person on our premises.
Our company continues its innovative and pioneering course, introducing a new modern product that comes to enrich our already wide range of security and safety glass panels.
The Laminated (triplex) glass panels, glued together with the new, revolutionary transparent rigid type DG-41 membrane.
Recommended for glass balcony bars applications, where this particular system can offer up to 80% more elasticity and durability.